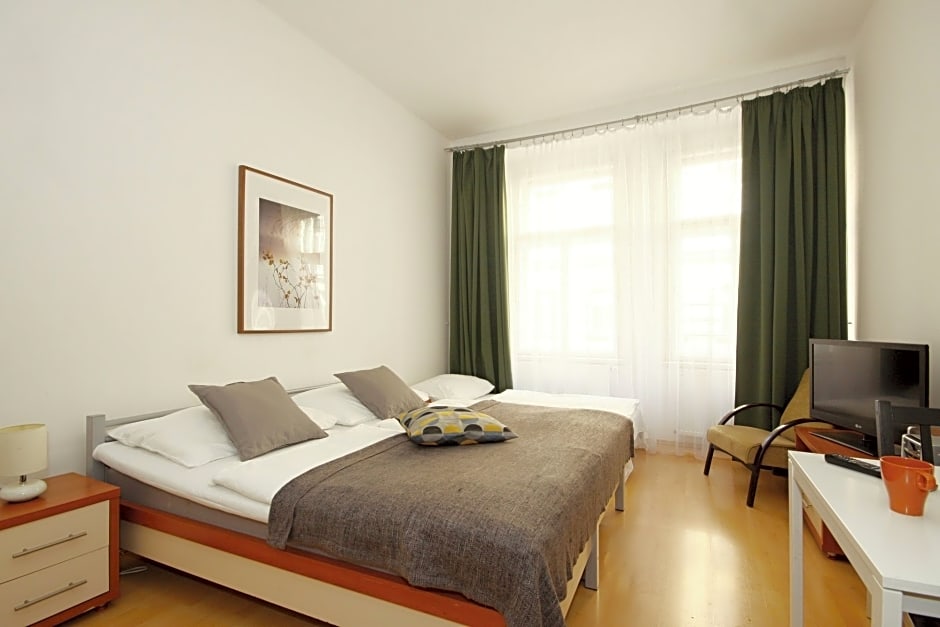 Theatre Residence Apartments is a comfortable hotel conveniently located only 4.1km (2.5mi) from the centre of Prague. Local places of interest include Prague National Theatre (Narodni Divadlo), Church of Saints Cyril and Methodius and Prague Dancing House (Tancici dum). Other points of interest are Naprstek Museum, Czech Technical University (Ceske Vysoke Ucení Technicke - CVUT) and Clementinum-Prague National Library.

Guest bedrooms
There are 13 well-appointed rooms at Theatre Residence Apartments. Guests of the hotel can make use of the following room facilities: coffee/tea maker. Additional amenities in the rooms include separate sitting area. Beds: Extra towels and bedding items can also be found in the rooms. Bathroom amenities include hair dryer and shower/tub combination. Entertainment: Theatre Residence Apartments features in-room facilities such as satellite television service. Internet connection options: Guests wishing to stay connected will certainly appreciate wireless Internet access. Housekeeping services are provided.

Hotel Facilities
Meal options at Theatre Residence Apartments include a cafeteria. Our hotel provides a 24-hour front desk service. Our multilingual staff is friendly and professional. Additional services: dry cleaning/laundry service and elevator/lift.

Transportation/Parking facilities
Theatre Residence Apartments offers transportation to/from the airport for a surcharge.
予約する方法
Theatre Residence Apartmentsで予約するのが簡単で安全でございます。ご希望の日付を選択します。そして、フォームを送信するために「料金を確認し」というボタンをクリックします。 客室タイプと料金はお宅の画面に戻った後で、画面の中央にある部屋の情報を読むと画面の右側にある「予約する」というボタンをクリックすることによって希望の料金を選択することができます。希望の客室タイプを選択した後で、「ご予約を完了」というフォームに転送されます。その時に「滞在の詳細」を確認して、「ゲストの詳細」という部分の空欄でご自分の詳細のことを書きます。ご自分の名前とメールアドレスが正しく入力されていることを確認してください。 すべての重要な情報を記入した後で、「ご予約を完了」というボタンをクリックしてください。ご自分のセキュリティを確保するために、私たちがクレジットカード番号を暗号化し、非使用可能な形式にエンコードする安全なコマースサーバーを使います。
地域情報
空港

Prague, Czech Republic (PRG-Ruzyne)

- 6.95 mi

ミュージアム

Langhans Gallery

- 0.43 mi

National Museum

- 0.61 mi

Prague National Museum

- 0.61 mi

Mucha Museum

- 0.63 mi

Narodni Museum

- 0.64 mi